Treat Patients Like Family
We care for all of our patients as if they were our own family.

Do The Right Thing
Our team will always do what is right for the patient, no matter what.

Inspire Others Everyday
We aim to inspire our staff and our patients through the work we do every day.

Provide Care with Passion
Our caregivers and clinicians are passionate about what they do and are always there to support their patients.

Never Compromise
Our patients deserve the highest quality care and we will never compromise on providing it to them.
We're a team of real people with families just like yours, so we get it. We understand how hard it can be to navigate caring for a loved one or worrying about your own aging. That's why we do what we do.
We exist to ease the struggles of caregiving and recovery, and to provide you and your family with a safe, healthy, and happy lifestyle, no matter the circumstances. We want to make sure you or your loved ones can remain at home and maintain independence for as long as possible. Aging or illness shouldn't keep you from enjoying life and our knowledgeable and reliable team is always there to make your day-to-day possible. We're committed to providing care of the highest standard and treat our patients with the utmost dignity. You don't have to do this alone. We are always here for you.
We are a licensed home health agency, not a nurse registry. We are Medicare-certified and CHAP-accredited.
Our patients are an extension of our family and we want to care for you and your loved ones the same way we'd hope to be cared for ourselves. Health, safety, comfort, and companionship are our top priorities. Our staff is educated and passionate about quality care and we are committed to doing the right thing, no matter what.
Whether your needs are simple or more complex, non-medical or skilled care, we're here to make your life easier. You and your family deserve a trusted resource that you can rely on in times of need and we are here to be that resource for you.
Our mission is to partner with our patients to deliver the very best home-based care and health outcomes while elevating each patient's longevity, independence, safety and dignity at home.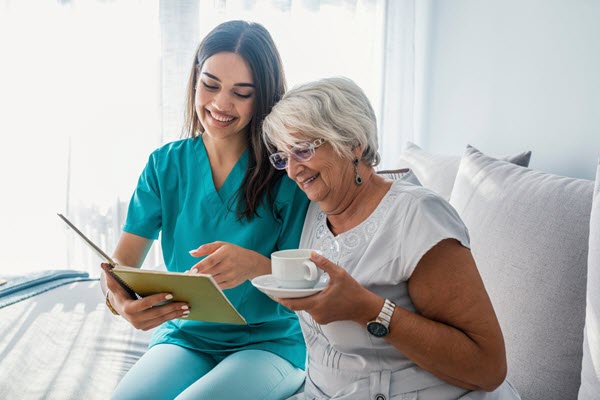 Start a New Career With Etairos!
Are you a caring, compassionate nurse or caregiver looking for a rewarding career helping people live their best lives?
If so, we want to meet you! We have immediate opportunities available for CNA's, Home Health Aides, Companions, LNP's, RN's, Physicial Therapists, Occupational Therapists and Speech Therapists.
I am very pleased with the skilled nursing services with Utopia Home Care. The nurses are so lovely and do a very good job.
We care for the patients and each other like we would our own family. It's a personalized level of care and relationship building that shapes a positive work environment.
Our Leadership Team
With decades of experience and a passion for home health care, our leadership team guides and inspires our team to be the best we can be.